Blue Monday 1988 [US DJ Promo] (1988)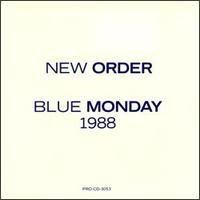 "Blue Monday 1988 [US DJ Promo]", New Order (1988)
Brace yourselves: This is my first non-ripped-vinyl rarity. You know what that means: Less hissin' and poppin'!
Now, I think the title says it all. This is the 1988 remix of New Order's 1983 classic, "Blue Monday." And guess what? This item is the three-track CD sent out to DJs in the United States. How very obvious.
What's the difference between this and the "Blue Monday" of five years prior? Not much, aside from extra diddle-daddling noisearoos and pointless samples of some guy saying goofy things like "Oh boy this is too much!". And it's shorter. Well, at least the standard single mix is. But thankfully, this promo also comes with the 12" mix of the '88 version. It's not as austere as the '83 original, but it's acceptable.
According to
New Order Online
, the various non-promotional editions of the Blue Monday 1988 single tended to have some b-sides not found on this particular DJ Promo. Of note are "Touched by the Hand of God" (single and dub mixes) and a track called "Beach Buggy" (a play on the fact that the 83 Blue Monday had a dub called "The Beach"). This promo, and a few editions of the single, instead have a track called "Blue Monday 1988 [Dub Version]". It's essentially more of the same, but with added reverb, less lyrics, and more samples.
So why am I uploading this? Simply because you probably won't be able to find the dub version or the 12" mix of Blue Monday 1988 anywhere else.
I shall be quick to add that you
can
find the single mix in the flawed 1995 retrospective
The Best of New Order
, and in the recent 2-CD
Singles
collection. So if you like it, buy it. If you don't like it and find that its compromised by the all the unnecessary blippin' and broopin', then get the original "Blue Monday". You can find that on the CD edition of
Power, Corruption & Lies
and on 1987's superb
Substance
compilation.
I shall speak no more. Here's the music.
1. Blue Monday 1988 [Single Mix]
Download
(25.84 MB)
2. Blue Monday 1988 [12" Mix]
3. Blue Monday 1988 [Dub Version]
http://rippedvinyl.blogspot.com/