| | |
| --- | --- |
| king_buzzo | 06.24.2007 10:00 AM |
---
Quote:
---
Originally Posted by sarramkrop
Flying Testicle - Space Desia (1993)
Early 90s experimental/noise trio which included Masami Akita (Merzbow), Maso Yamazaki (Masonna) and Zev Asher (Roughage).
Style: Noise, Experimental, Industrial
Credits: Electronics, Performer [Samples, Beats], Drums, Guitar, Bass - Masami Akita
Voice [Screams], Guitar, Violin, Synthesizer [Casio], Percussion - Maso Yamazaki
Voice, Vocals, Bass, Tape, Performer [Toy] - Zev Asher
Notes: Limited Edition CD with full-color miniposter
Tracklisting:
1. Johnny Guitar
2. Arturos Island
3. Romance
4. The Red Lanterns
5. Dark Eyes
6. Hit Kit Party
7. Night Falls
8. Open Squeeze
9. Horizontal Bop
10. Beautiful Dreamer
http://www.paylesssofts.net/picture/...p?id=x28232140
http://gayrod.blogspot.com/
---
t-hanks.
| | |
| --- | --- |
| ZEROpumpkins | 06.25.2007 03:47 AM |
---
Quote:
---
Originally Posted by king_buzzo
anyone have any of the discontinued MBV ep's?
---
Didn't you post them? Or do you mean the earlier ones?
| | |
| --- | --- |
| king_buzzo | 06.25.2007 06:21 AM |
---
Quote:
---
Originally Posted by ZEROpumpkins
Didn't you post them? Or do you mean the earlier ones?
---
yeh, got em all now, look at the blog thread :eek: theres a link there that someone posted
| | |
| --- | --- |
| Bicorn Halfelven | 06.25.2007 01:04 PM |
---
Quote:
---
Originally Posted by Nefeli
Organisation - Tone Float (1970)
Tone Float is an obscure LP by German band Organisation. The album sold few copies on its UK-only release in August 1970, and might have been forgotten forever had two of the band members, Ralf Hütter and Florian Schneider-Esleben, not gone on to change the face of 20th century music with their next group Kraftwerk. It was produced by Konrad "Conny" Plank.
The Tone Float record is by no means a classic of the Krautrock genre, being for the most part rather unfocussed.
The track "Milk Rock" perhaps offers the best glimpse of the Kraftwerk to come, with its powerful riffing bass guitar, and Schneider already heavily manipulating his flute using an EMS pitch-to-CV converter to drive other electronics.
'The studio was in the middle of an oil refinery. When we came out of the door we could hear the sound of those big flames burning off the fumes – all kinds of industrial noises.'
— Ralf Hütter
Sales were poor and RCA opted to drop the band, which then dissolved.
The album has never been officially reissued, although bootleg CDs and LPs appeared in the 1990s. These often included a bonus audio track, erroneously titled "Vor dem blauen Bock", from a 22 May 1971 performance by Kraftwerk on the Bremen Beat-Club TV show.
Tracks:
01. Tone Float – 20:46
02. Milk Rock – 5:24
03. Silver Forest – 3:19
04. Rhythm Salad – 4:04
05. Noitasinagro – 7:46
06. Vor dem Blauen Rock.
Download
.
---
You are truly a god among men.
Thank you.
| | |
| --- | --- |
| jico. | 07.06.2007 06:16 AM |
---
ARTHUR DOYLE/TAKASHI
MIZUTANI/SABU TOYOZUMI
- Live in Japan, 1997-
(QBICO 09/10) 2LP 2003
(26 copies only,hand-made covers)
Side A:
Nov.8th or 9th,I can't remember when
Side B:
Alabama and Mississippi reunited
Side C:
I pass,then resist
I'd live in her world,then without her in mine
Side D:
Love heal
Joy
rec. live 14 Nov. 1997@Manda-la2, Tokyo, Japan
Arthur Doyle- tenor sax, flute, voice/Takashi Mizutani- electric guitar/Sabu Toyozumi- drums
Code:
---
http://rapidshare.com/files/30893483/ADTMST.rar
---
| | |
| --- | --- |
| jico. | 07.06.2007 07:43 AM |
---
The Legendary Pink Dots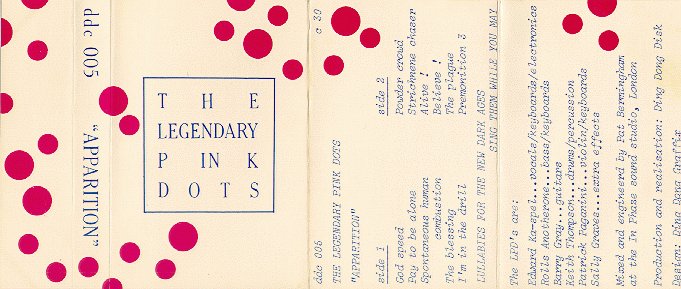 Apparation (1982)
01. God Speed
02. Pay To Be Alone
03. Spontaneous Human Combustion
04. The Blessing
05. I'm In The Drill
06. Powder Crowd
07. Strychnene Chaser
08. Alive!
09. Believe!
10. The Plague
11. Premonition 3
Code:
---
http://rapidshare.com/files/41088236/L___P___D___8_2_1.rar
---
| | |
| --- | --- |
| sarramkrop | 07.20.2007 07:45 AM |
---
Thanks everyone.
Revealed To None As Yet An Expedience To Utterly Vanish Consciousness While Still Alive
This recording finds Haino performing to an intimate Tokyo audience on electronics, hurdy gurdy and vocals. These recordings were chosen from hundreds of hours of live Haino.
This double disc release is limited to 1000 and is housed in a lavish 6 panel black on black letterpress designed by Stephen O'Malley
mediafire.com/?e2m0zhxwy1j Disc 1
mediafire.com/?2g2h0wqghqd Disc 2
---------
Global Ancient Atmosphere
Keiji Haino (drums). "Rhythm, duration and silence lie at the foundation of all of Haino's music. After a clutch of documents of his hair-raising solo performances for both acoustic and electric percussion, this latest album presents Haino's first recorded outing behind a regular drumkit. Haino has long desired to release a solo drum album, and he has been playing a regular kit occasionally live for several decades now. Global Ancient Atmosphere (the alternative Japanese title means 'These signs, a sealed beginning') contains nine tracks that showcase an austere yet thrilling investigation of attack and decay on nothing less than the molecular level. As inimitable, and as life-affirming as ever."
| | |
| --- | --- |
| ScreamingSchool | 07.22.2007 10:22 AM |
---
Anybody got Velvet Underground's "Squeeze" album
| | |
| --- | --- |
| sarramkrop | 07.23.2007 07:41 AM |
---
V.A. - 1991 - A Psychedelic Psauna (In Four parts) [Delerium]
A: Going Out
01
A Word From Our Sponsor
02
Sundial - Mind Train Excursion
(Sundial)
03
Magic Mushroom Band - Don't Be Afraid
(Magic Mushroom Band)
04
Nick Riff - Lost & Wild
(Nick Riff)
05
The Petals - Poisoned Air
(C. Wolf)
C: Staying For A Bit
06
The Porcupine Tree - Linton Samuel Dawson
(S. Wilson)
07
Dimentia 13 - Do The Jerk Off
(Bradley S. Warner)
08
Poisoned Electrick Head - Snobs
(Poisoned Electrick Head)
09
The Bevis Frond - Cold Rain & Snow
(Trad Arr. Bevis Frond)
I: Going Furthur
10
Alice's Orb - Don't Know If I Should
(Ross/Woollford)
11
John Fallon - Summers End In San Francisco
(J. Fallon)
12
The Gothics - The Quest
(The Gothics)
13
Tyrnaround - Hello Or Goodbye
(G. Gray)
D: Leaving Completel
y
14
The Colored Plank - Black Ferris Wheel
(Trad Arr. A. Stoat)
15
Mandragora - Conspiracy
(Mandragora)
16
Ozric Tentacles - 'Erp Riff '83
(Ozric Tentacles)
17
The Trodds - The Stalk
(A. Heller)
18
Treatment - Nightmare
(Treatment)
No need to say something for this Tripy comp...
Just get it !!!


V.A._-_A_Psychedelic_Psauna@256.part1.rar
V.A._-_A_Psychedelic_Psauna@256.part2.rar
http://lost-in-tyme.blogspot.com/
| | |
| --- | --- |
| sarramkrop | 07.23.2007 07:43 AM |
---
I wonder if Ashtray Navigations took inspiration for their name from this band:
Astral Navigations - 1971 - Astral Navigations
1. Fourth Coming
2. Path Of Stone
3. a.Windows Of Limited Time
b. The Astral Navigator
4. Yesterday
5. Today
6. Tomorrow
7. Someday
8. Country Lines
9. Boogie Music
10. Rock Me Baby
11. Come On Home
A superb album from this era featuring this mysterious band which
unfortunately produced only this album. British folk and
psychedelia with some epic songs. A jewel to any collection.
Brian Wilson from Beach Boys on bass.
This is a review from Styng' Yorkshire's Underground newspaper, 1971
(This review was printed in the Astral booklet which accompanied the album)
http://www.holyground.co.uk/astral/astralphotos/astralreview1.jpg
Tip: Turn up the volume on the beginning of the first song and listen to the
"how to use" instructions.
You can download it from here:
http://rapidshare.com/Astral_Navigations_-_Astral_Navigations_1971.rar
Enjoy!
| | |
| --- | --- |
| jico. | 07.23.2007 08:16 AM |
---
yes, i remember reading an interview a long time ago... he said the name ashtray navigations was a mock to that album...

thanks for the psychedelic psauna
| | |
| --- | --- |
| sarramkrop | 07.23.2007 08:18 AM |
---
Machine (Netherlands 1970)
"The Rotterdam based Swinging Soul Machine changed its name to Machine and started to play a kind of hardrock with progressive influences. Singer John Caljouw came from the legendary band Dragonfly. Machine introduces the horn section together with loud heavy acid fuzz guitar. Really cool underground sound: "virgin" (groovy heavy acid fuzz guitar riff vs detroit hi-energy soul funk), "god's children" (trippy psych with hammond organ, psych effects and phasing), "old black magic" (heavy acid fuzz guitar and floating psych flute leads), "sunset eye" (long and very heavy apocalyptic underground psych)." (
via Dutch Prog
)
"Rare Dutch prog with a psychedelic bent from 1970. Organ & guitars dominate the sound throughout the album. Featuring ex-Dragonfly (yes the awesome '60's Dutch psych band) lead vocalist John Caljouw the album is a great mixture of keyboard and sax led songs that drive along in a terrific early 70's prog style. Of particular note is the 6 minute "Spanish Roads" which contains excellent guitars and swirling Hammond B3 keyboards." (via FreakEmporium)
Machine were a 1970 Dutch group who played a mix of what was popular at the time: Psych, progressive, hard rock and horn rock. Nederbeat was one of the more healthy psych/garage scenes coming out of continental Europe and Machine were like the latter stages of those groups such as Q65 and Cosmic Dealer. The strong Hammond organ presence adds a proto-prog sound similar to Deep Purple and Mainhorse. Horns were frequently inserted in those days to increase the odds of a chart appearance, given the wild success of Chicago and Blood Sweat and Tears. And, as expected, there's also a strong blues influence throughout. The album has a strong start but really crawls to the finish, as predictable 3-chord blues rock takes over the lion's share of the proceedings. Recommended to fans for bands as diverse as Affinity, Ahora Mazda, Warhorse and Irish Coffee. (
via Gnosis2000
)
link
http://crotchbat.blogspot.com/search...max-results=50
| | |
| --- | --- |
| Savage Clone | 07.23.2007 08:32 AM |
---
I love this thread so very much.

Thanks for the "Apparition" cassette upload, jico.
I used to have that years ago and traded it for some other stuff with someone who is even more of a fan than I am. I didn't listen to it a ton, but I have missed it and it's nice to be able to get it back in some form.
| | |
| --- | --- |
| sarramkrop | 07.23.2007 08:50 AM |
---
Ta for the info Jico, I suspected that band's name might have something to do with Ashtray Navigations' name .
THE MUSIC MANIAC 'GIMMICK' COMPILATION
THE MUSIC MANIAC 'GIMMICK' COMPILATION
(RAPIDSHARE link due to server limitations)
!!!REPOST!!!
Hallo fellow music maniacs!
I've received numerous requests for a repost of this compilation, so I relented and reuploaded this collection of rare tracks from the
MUSIC MANIAC RECORDS
label.
This 1989 release (MMLP 023) contains 11 otherwise unavailable tracks:
01. Dizzy Satellites - Time Has Come
02. Cheepskates - Bite The Bullet
03. Miners Of Muzo - The Night Of The Miner
04. Mark "Vet" Enbatta - Winter
05. The Fuzztones - Ward 81 (Live In Oslo '88)
06. The Daisy Chain - Rebellion
07. Droogs - San Quentin
08. Link Portrudi & The Jaymen - Black Widow
09. The Vietnam Veterans - Wolf
10. Shane Faubert - Yesterday's Leaves
11. The Last Drive - Hell To Pay
Here's what John Storey of
Music Maniac Records
had to say about this release:
It's a tribute to the phonograph record and the weirdest LP ever. Cut 'trick-track' with 3 parallel grooves on each side (check HERE for more info on "Fate As The DJ"), clear vinyl, no labels, spoken introductions by each band, free boardgame (yes, a game is also included with the LP) and a cover with optical illusions. 'Weird and wonderful alltogether! The music? Good God! ...You know the names, now play the game!
OK, hope that was illuminating.
This collection was never available on CD and I ripped it from my own vinyl copy. It took quit a while with 3 parallel grooves on each side and no labels, but I thought you might enjoy this nice rarity. There's no inherent running order (because of "Fate As The DJ"), so I used the running order of the board game that came with the LP.
Anyway, enjoy this blast of the neo-psychedelic 80's past!
http://dreamtimemix.blogspot.com/200...mpilation.html
| | |
| --- | --- |
| sarramkrop | 07.23.2007 09:00 AM |
---
Click on the highlighted word 'shiny' for link:
Distracted By Shiny Objects, Unwitting Accomplices
Loop - A Gilded Eternity (1990)
The directions were explicit: Stand on one leg (either leg) for three minutes; Rotate slowly to your left until facing a
shiny
object; Switch legs; Stare without blinking at said shiny object for two minutes; Close eyes; Repeat.
What this had to do with assembling a bicycle, Henry didn't know. But after three hours he hadn't put bolt A together with nut B, though he had enjoyed several wildly hallucinogenic moments of
ecstasy
, in the time between closing his eyes and hitting the floor.
| | |
| --- | --- |
| sarramkrop | 07.23.2007 11:07 AM |
---
October Cherries-Dreamseller
1972 Singapore Psychedelic Pop

@320 kbits (Vinyl Rip?)
this one was requested some time ago
decent Beatelesque psych pop,this album is quite rare.
this is the only vinyl rip i could find,and one track is damaged
my fav. tracks are Dreamseller and Bad Trip.
overall a good addition to the collection of psych pop freaks.
the album was recorded in belgium.
and got released there by EMI Europe,Baal Records did the asian
release.
some info:
NCREDIBLE Beatles-inspired pop psych masterpiece by the October Cherries, "Dreamseller" and subtitled "A Work of Magic by the October Cherries". Now it may take quite a bit of nerve and confidence to subtitle your album "a work of magic", but in this case, the Cherries knew what they were talking about. This MONUMENTAL album is indeed magical - a long-lost Malaysian Magical Mystery Tour that so few people have ever heard - and anyone who loves the tuneful orchestrated UK popsike sounds of bands like the Bee Gees, Idle Race, Beatles and all the Rubble comp bands will LOVE this album too. Granted, it didn't get released until 1972, long after their particular sound was way out of style in England, but in Signapore, they were superstars.
This LP is filled with really incredible Beatlish psych. Good tunes, playing, arranging, psychedelic bits. Just incredible
-popsike.com
| | |
| --- | --- |
| sarramkrop | 07.23.2007 11:35 AM |
---
Hi Fans
Greetings from Zebulon
Here's a nice gift from him
Kraftwerk - Ultra Rare
Trax
Many thanks to Zebulon
Enjoy
Conan
http://kraut-team.blogspot.com/
| | |
| --- | --- |
| sarramkrop | 07.23.2007 11:44 AM |
---
KAPUTTER HAMSTER - KAPUTTER HAMSTER (1974)
An amusing name for a band "Broken Hamster", and one of the many unknowns of Krautrock, that produced just the one extremely obscure privately issued album. They played a brand of Krautrock drawing on diverse influences, the folky trippy feel of Amon Düül contrasting with the heavy blues progressive in the realms of Jane through to The Groundhogs. ~ "The Crack In The Cosmic Egg" by Steven Freeman & Alan Freeman
http://lix.in/006279
@320
http://krautbar03.blogspot.com/
All times are GMT -5. The time now is

02:47 PM

.
Powered by vBulletin Version 3.5.4
Copyright ©2000 - 2023, Jelsoft Enterprises Ltd.
All content ©2006 Sonic Youth